[From
London Socialist Historians Group Newsletter
#61 Summer 2017]
The Battle of Wood Green, 23 April 1977: A question of history
The Battle of Wood Green took place on Saturday 23 1977 when a 1300 strong National Front march left Ducketts Common (Turnpike Lane N8) to march down Wood Green High Rd. They were opposed by 3,000 anti-fascists and large numbers of Saturday shoppers. Not all of the march made it to the final rally at Arnos School.
An event on 23 April 2017 to mark the 40th anniversary and linked the united effort then to oppose fascism with racism with the continuing fight today. About 500 people took part, including many of the original participants. 23 April was also the date of the first round of the French Presidential election…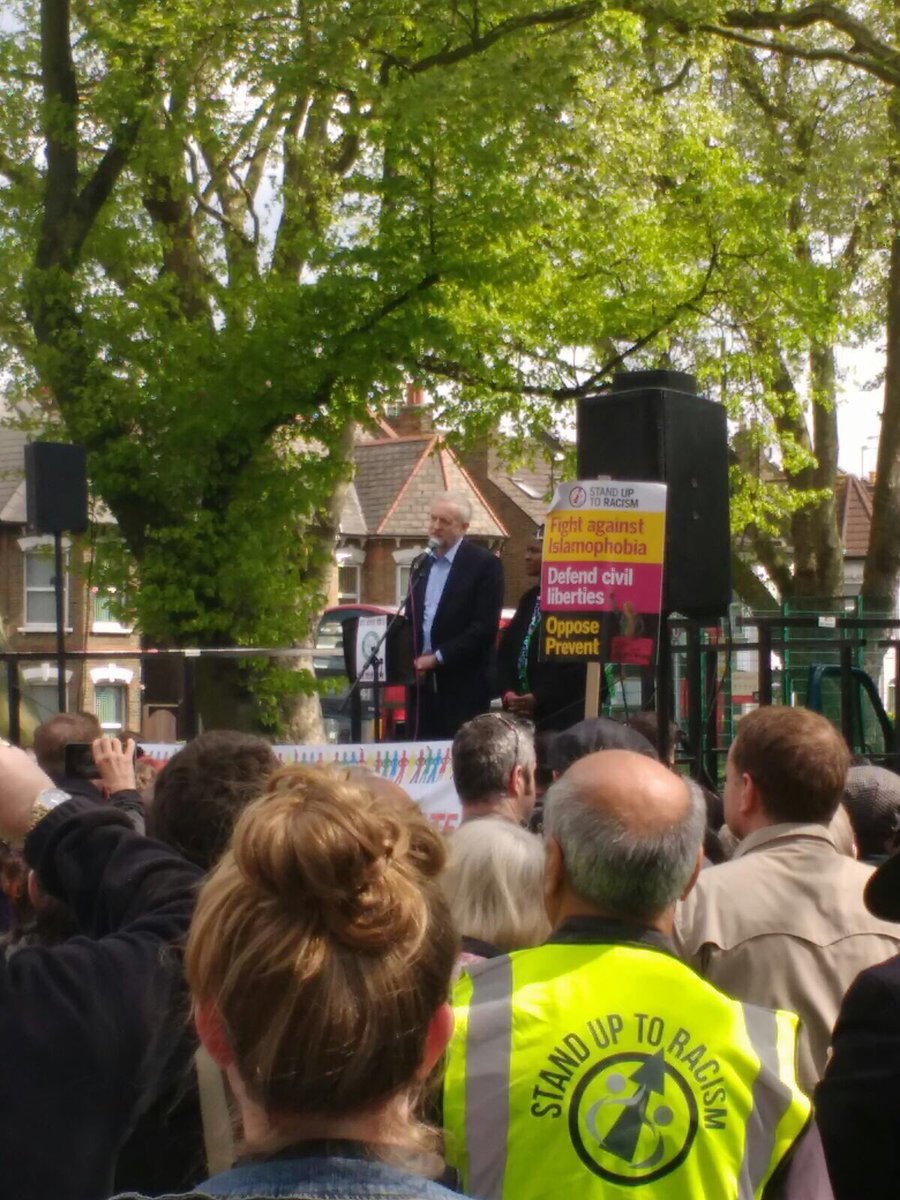 Jeremy Corbyn speaking at the event to commemorate the 40th anniversary of the Battle of Wood Green
Part of that event was a re-publication of the pamphlet published in 2007 jointly by the London Socialist Historians Group and Haringey TUC and jointly authored by Ian Birchall, David Renton and myself.
Aside from providing political analysis of what the events of 40 years ago meant, we attempted to gather memories of what had taken place (at that time) 30 years ago. It is an issue that is increasingly preoccupying the discussion at London Socialist Historians seminars at the Institute of Historical Research. The national history of the left, radical and labour movements since the 1960s is to a degree recorded in official papers, minute books, memoirs etc. When it comes to local activities or activities in particular workplaces the historical record is very patchy indeed. Local record offices often hold little or nothing often because documents are not deposited (but often thrown away) and there is not the resource to go and collect them.
When it comes to 23 April 1977 we have captured the memories of some participants. The day, as such occasions often were and are, was somewhat chaotic so what is recalled can be contradictory (and memory, not least mine, is far from always reliable). We do have the coverage of the the local paper the Hornsey Journal. What has not been done is to see if there are official papers, police files or Council paperwork, which can add to our understanding of the day.
I was privileged to speak along with Dave Morris at the Bruce Castle (Tottenham) local history event on 18th February on the Battle of Wood Green. There was an impressive audience of around 100 people some of who had been there 40 years ago. New memories, previously uncaptured, are still appearing not least about the role of a local Haringey Councillor called Jeremy who it appears went on to become rather better known, and who spoke at the commemoration.
If you have memories of the Battle of Wood Green (or any photos or documents) do get in touch.
Keith Flett
See also the twitter feed - Battle Of Wood Green (@BattleOfWoodGrn